On the occasion of the 800th anniversary of our hometown, we have come up with a special present and have virtually reconstructed the medieval synagogue, which was discovered during construction work in the 1990s. Starting on May 25, citizens of Marburg and visitors can experience the 360-degree time travel live every day in the upper town, at our company headquarters, and at other locations in the city area.
With the reconstruction of the synagogue as a virtual group experience, we are presenting a digital project to a non-technical audience for the first time: Those responsible for the anniversary program are thrilled. The innovative concept is staged with state-of-the-art virtual reality technology. Based on old drawings, photos of the excavation site and information from historians, we have recreated the building to scale in such a way that it can be walked through with virtual reality data glasses and experienced  almost realistically.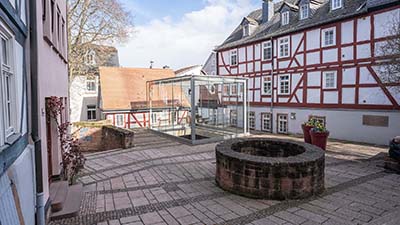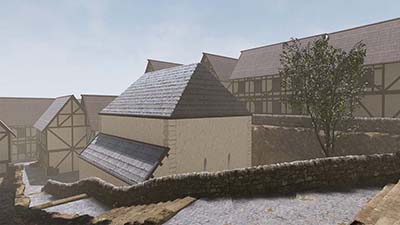 Almost realistically means that during the implementation we attached very great importance on the so-called immersive experience. This is an effect that makes the user's consciousness fade into the background to such an extent that the virtual environment is perceived as real.
And that's how it feels: Guests can independently explore all the rooms of the synagogue: The sounds of the market can be heard as you enter the house of worship by flickering candlelight. Walking through the old building, you reach the Torah cabinet and in a way never seen before, you can experience the medieval synagogue with almost all senses.
"We are pleased that our project on "Marburg 800" has been so well received by those responsible and hope to welcome numerous visitors," explains Thomas Winzer, CEO of INOSOFT AG. "As a Marburg company, it was important for us to make our contribution to the wide range of events in the anniversary year."
Marburg, 20. May 2022